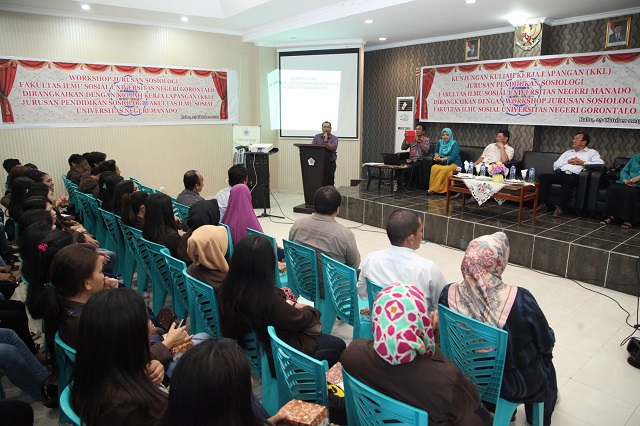 GORONTALO – Students and Lecturers of State University of Manado, Department of Sociology Education welcome by Dean of Faculty of Social Science Dr. Sastro Wantu, SH, M.Si, Head of Sociology Department and some head of faculties in State University of Gorontalo, October 25th at the Faculty of Social Science building.
Head Department of Sociology Unima Dr. Maryam Lamadirisi, M.Si, stated that this academic visit is in purpose to acquire information related to development of their department such characteristics of Department or application of Education Process and Curriculum process."This is part of plan for strengthening both departments toward partnership agenda like students exchange and lecturer exchange," said her.
Head Department of Sociology UNG Sainudin Latare, S.Pd, M.Si, said that this academic visit was done in order to upgrade quality for both Departments. "Towards this visit, we can share our ideas for the development of our Departments, so we can grow and develop together," he said.
In addition, Dean of Social Science Faculty Dr. Sastro Mustapa Wantu, S.H.,M.Si warmly welcome the delegations in hope to strengthen the hospitality and relation of these two Departments. He said, "I personally hope the delegation form Unima carries out the positive things for the development of our departments, and hopefully next time Faculty of Sociology UNG will also visit Unima".