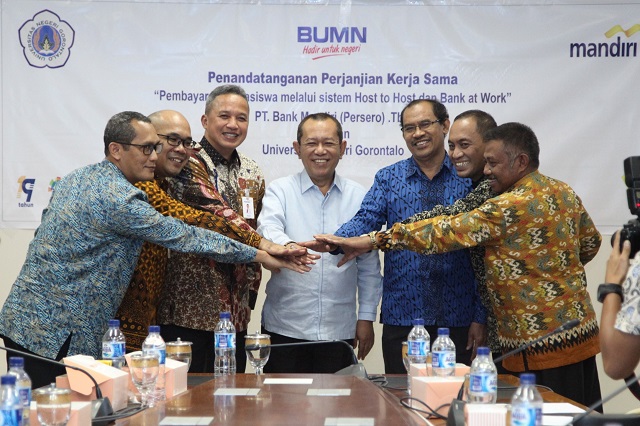 GORONTALO – State University of Gorontalo (UNG) agree to establish partnership with PT. Mandiri Bank particularly in student's payment through host to host system and Bank at Work.
The assignation of Memorandum of Understanding held on October 3rd by Rector Prof. Dr. Syamsu Qamar Badu, M.Pd and Mandiri Bank Vice President of Sulawesi and Maluku R. Putut Putranto in Rector Office is a sign that State University of Gorontalo and Mandiri Bank has officially become partner.
Mr. Rector said "partnership is one way to keep develop, because to have a big leap requires support of many people". He said, as one of developing university State University of Gorontalo need to have partnership with many parties and UNG take this issue seriously in order to be a better and better university. Because partnership is a main gate for UNG to do an acceleration and UNG can do this by partnership.
In the other hand, Vice President of Mandiri Bank explained that towards this partnership Mandiri Bank attempted to provide integrated banking services for UNG. Services such as Bank at Work feature, he said, will help UNG to provide needs of banking services.Furthermore, Mandiri Bank particularly students services by using host to host facility will assist students for tuition payment easily whenever and wherever.
"Tuition payment later can be done by using handphone or internet banking, so there will be no risk for lateness in paying tuition" said him.