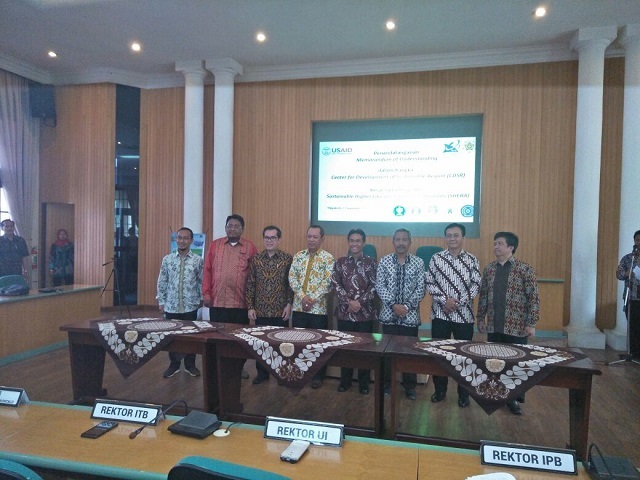 GORONTALO – The implementation of Higher Education Tri Dharma particularly in Research and Development is one of the major concerns of State University of Gorontaloto to fulfill vision to be a leading university in 2035. To support quality and quantity enhancement in research, State University of Gorontalo signed a joint research with University of Colorado Buolder, America, with six other national universities, such as Gajah Mada University, University of Indonesia, Bogor Agricultural University, Bandung Institute of Technology, Bangka Belitung University, and Muhammadiyah University of Gorontalo.
This joint research program is a research collaboration in Center for Development of Sustainable Region (CDSR) which carries out the topic of environment, energy, and maritime science. This program is supported by Ministry of Research, Technology, and Higher Education and USAID's Sustainable Higher Education Research Alliances (USAID SHERA), the Government of the United States, which grant up to 20 million dollar project. The project is lead by Gajah Mada University.
The higher educational research collaboration held to increase the number of international level research in universities in Indonesia towards environment to renewable energy. This collaborative research was agreed to be 4 years and took place in State University of Gorontalo. Dr. Yuszda K. Salimi, M. Si and Dr. Yayu Arifin, M.Si, lecturers from Faculty of Mathematic and Sciences of State University of Gorontalo are responsible as Management Team for this project.
Rector of State University of Gorontalo, Prof. Dr. Syamsu Qamar Badu, M.Pd., said that this will be a great way for UNG to accelerate and to bring out international level researches."By this program, we hope that researchers in our university could continuously conduct research in order to rise up references and to produce innovations that increase competitiveness and number of research to be published in accredited journal or index journal," said Rector.